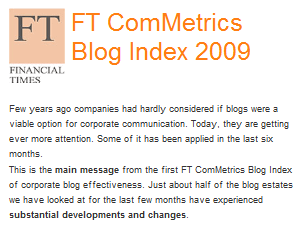 How do you rank compared to your competitors? This question is answered in part by the FT ComMetrics Blog Index, which ranks FT Global 500 and Fortune 500 firms' corporate blogs. It will appear in the Financial Times newspaper's regular supplement on Digital Business as well as on its webpage on Thursday, May 14.
You can download this document as a PDF file here:
–  Press Release – CyTRAP Labs and the Financial Times release the FT ComMetrics Blog Index (FTCBI)
More information about the index can also be found here: FT ComMetrics Blog Index – case studies (Kleenex, Coca-Cola, Daimler, Nike, Wells Fargo, etc.)
Our press releases are available here:  CyTRAP Labs – press releases
---

Find out more about the
FT ComMetrics Blog Index
and the
FTindex results
using these links:
Leaders by metric, What is top class, Methodology, Good and best practice, Lessons learned, Trends to watch, Your own index report, Free download: PDF report
.
Relevant blog metrics for diary, personal and business blogs
Please subscribe now so you can claim your personal and/or corporate blog AND trace those that you want to compare yourself to.
For Twitter, please use #hashtag ➡ #FTCBI
---