Recently we posted:
Today we focus on risk management in the airline industry.
2007-09-09 – Sunday – an SAS, turboprop (Bombardier Q400) carrying 73 people caught fire after its right landing gear collapsed during an emergency landing at Aalborg's airport in western Denmark. The plane skidded off the runway and five people were hurt during the evacuation.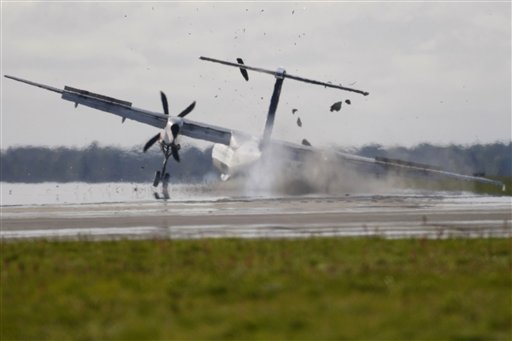 If you cannot see above image, please click here
– 2007-09-09-Scandinavian Airlines Q400 Dash 8 aircraft from Bomardier Aerospace of Canada skidded off a runway in Aalborg
Better risk management requires planning and tough decision-making by top management
2007-09-12
Wednesday
SAS pilots attempted to land another 80-passenger Bombardier Q400 turboprop at Vilnius airport on its front and left landing gear, when the right set of wheels failed to extend.
Passengers were ordered to move to the left side of the plane, as it approached the runway, for fear that the right propeller might shred upon landing and send shards through the right side of the cabin, according to the Lithuanian Civil Aviation Administration.
2007-09-12Wednesday
SAS Scandinavia Airlines grounded its entire fleet of 27 Bombardier Q400 Dash 8 turtoprop aircraft following the above two incidents.
This move came after Canada's Bombardier (world's 3rd largest maker of commercial aricraft) recommended that all operators of older Q 400 – those that had accumulated more than 10,000 take-off and landing cycles – should ground the aircraft until they could be inspected.
SAS admits that prior to Sunday's accident in Aalborg, problems with the aircraft's main landing gear had been identified, and the pilots had prepared for an emergency landing
As the above shows, similar to Ford Motor Company with its Ford Pinto fiasco (best sold sub-compact car at the time – launched 1970), SAS decided to continue flying the plane even after the Aalborg disaster.So did Ford by continuing selling its Ford Pinto even though the car tended to catch fire in rear-end collisions. In this case, over 100 lawsuits against Ford Motor Commpany caused the firm to pay out millions of dollars in damages.At least 59 people burned to death in rear-end collissions involving Ford Pinto cars. In the case with SAS turboplanes Q400 manufactured by Bombardier, management knew about the risk that the right landing gear could collapse during a landing. Nonetheless, it decided to:
1) train the crew for emergency landings because there was a real probability that it could happen, and
2) take the risk and continue having the plane in the air.
Making the wrong decisions about risks costs SAS dearly
27 aircraft of Q400
Represent about 10% of the SAS group fleet
Financial impact of grounding
SKR10m-SKr15m (Euro 1.1m – Euro 1.65m) a day while the aircraft were grounded
How could this decision affect SAS' reputation (e.g., safety)?What might the legal consequences be – criminal and/or civil law suits?
Turboprops have regained popularity in the last couple of years due to the surge inoil prices and their much greater fuel efficiency over shorter distances. Hence, SAS appears to have been unwilling to ground the plane to reduce the risk for passengers while having to absorb revenue losses that are substantial (Euro 1.1m – Euro 1.65m each day).The above illustrates that better compliance and risk management should be achieved to avoid cases as described above. For a start, do such work in a systematic way and document what has and is being done using this checklist:- Download Urs+NahumChecklist-20070702 – latest version now as pdf file
PS.
For instance, those planes landing at London City Airport (LCY) have Menasco retractable tricycle-type landing gear; each unit has twin wheels fitted with Goodrich anti-skid brakes. The two independent hydraulic systems are supplied by Parker Bertea Aerospace. This is the same landing gear as used by the 2 planes that crashed in Aalborg and Vilnius.
RELATED STORY
– SAS risk management – after 3 near-crashes investors are paying the price for bad risk assessment
SUBSCRIPTION
To make it more convenient for you to take advantage of CyTRAP Labs' offerings, just provide us with your e-mail address below. You can personalize your subscription to make it suit your needs.