maybe it is or NOT but for sure, it is roughly half the price of the cheapest car available today
when it was released last month 207-01-10 – Thursday, media coverage was huge.
Will the Tata corporation be there to help negate the effect of environmental catastrophe on India when the droughts, floods and the economic costs of global climate change destroy the sub continent?
Tata will make 500,000 of these Nano cars each year and once they become available used in India, they might cost little more than a motorbyke. But we have had affordable vehicles in the past that have been produced in the millions.
The Volkswagen Beetle made it to number 1 with 21mio, while the Ford T is a not so close number 2 with 15mio being sold.

If you cannot view the above image click – timeline with cars
The above timeline (taken from the FT (Jan 11, 2008, p. 3) is interesting because it also shows the car prices using converted exchange rates at the time. These prices were all well below Chery, Maruti or even the Tata Nano
The "People's Car" is also the cheapest in the world at 100,000 rupees ($2500) – the same price as the DVD player in a Lexus.
Hence, while the Tata Nano seems to cost little compared to other cars sold today, it is quite pricey compared to the VW Beetle or the Fiat 500. So does it add many features that warrant such a steep price increased compared to the Trabant manufactured in East Germany at the time?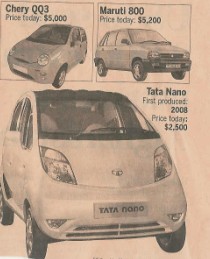 If you cannot view the above image click – Chery,Maruti and Tata Nano
So what do you get for your money? Well, the Tata Nano is 3 metres long, seats four comfortably or five at a squeeze (how many on its rough – remember Indian trains?), does 65 mph and aims to revolutionise travel for millions.
Tata cut costs by minimising components, particularly steel, and taking advantage of India's low production costs. Because of its size, it uses less sheet metal, has a smaller and lighter engine than other cars, smaller tube-less tyres and a no-frills interior. The company has applied for 34 patents to cover its innovations.
But let us be clear, the lowest price version offers little more than just the basics and will, in its current form, unlikely to be sold anywhere else than India soon. But does it matter, the 500,000 annual production will easily be sold out to the growing Indian middle class.
CyTRAP Labs' take on this
We think that the Tata Nano will have a great impact upon India's already congested roads.
No doubt about it but how they might affect gasoline consumption considering how far ahead the U.S. is (see below) remains to be seen.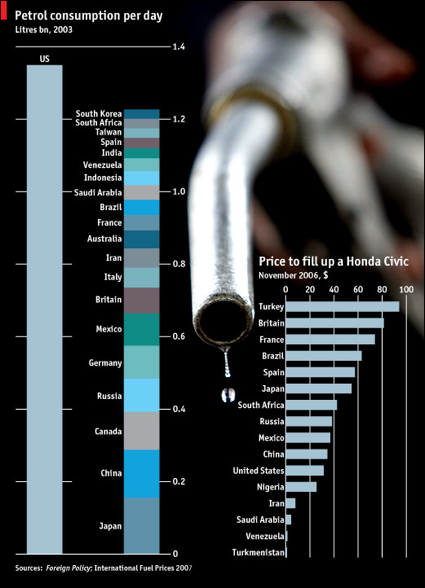 If you cannot see the above graphic you can get it here US is guzzling more than all the others (thanks to the Economist for creating this nice graphic)
The left bar above shows how much the U.S. consumes compared to many other countries. One explanation is surely the low price Americans pay at the gas pump to fill their Honda Civic. The bar chart on the right side of the above figure shows how much it costs to fill up a Honda Civic's tank at the gas pump. Turks pay a hefty price compared to Saudi or US drivers.
Just to keep in mind, India does have (on average) the world's most densely populated urban areas. It is exceeded only by Hong Kong and Macao, which are part of China.
Considering this, we wonder if Tata Nano driver's will ever be able to drive at top speeds on those congested roads in India's cities?
=====>
PS 1. Who says Tata cannot produce quality products. Tata software helps Ferari's F1 cars gain an edge over such rivals as McLaren Mercedes or Renault.
PS 2. The word Tata is an endearment for Grandfather in Mexico.
============>
If this post was helpful to you, please consider stumbling it or subscribing to feeds from CyTRAP Labs. Cheers.
============>